GNC Vision
Collaboratively empowering our Gateway residents to build a safe, healthy, and connected neighborhood where everyone has the best opportunity to live and prosper
About the GATEWAY Neighborhood Collaborative
On September 17, 2015, Wells Fargo Regional Foundation announced their neighborhood implementation grant to Perth Amboy Redevelopment Team for Neighborhood Enterprise and Revitalization (P.A.R.T.N.E.R.) in the amount of $500,000 (during the next five years) for its initiative entitled "Gateway Neighborhood Collaborative" (GNC).
The GNC initiative aims to promote the development of a resident-led and community-supported redevelopment framework of the Gateway neighborhood with the strategy to incorporate a community-based, multi-agency approach to housing, economic development, crime prevention, and neighborhood restoration. 
The subject area is an estimated 42 square blocks located within the southeastern and central quadrants of the City of Perth Amboy. The borders of the Gateway neighborhood are marked by streets and physical boundaries. To the north, the neighborhood ends at Fayette Street. Convery Blvd (route 35) forms the western boundary. The southern boundary is demarcated by the Raritan River. First Street is the eastern edge of the community. (See map attached)
There are approximately 1700 acres for redevelopment in Perth Amboy.  The 3 areas identified for redevelopment were:
Gateway - 450 acres
Waterfront - 250 acres
Northern Industrial - 1000 acres
The GNC implementation grant award will support the direct expenses that are essential to the community implementation process.  
The following is a description of the initiatives set to enhance the viability of the Gateway Neighborhood and improve the quality of life for its residents:
Work to ensure that the neighborhood is organized to serve as a conduit for getting information distributed, facilitating meetings, and promoting grassroots action.
Enhance the mix of retail, entertainment, housing, and other prospects to define and attract new businesses, housing units, and similar opportunities in the Neighborhood and act as anchors for investment, employment, and revitalization. The opportunity for arts and cultural venues will also help to enhance the diversity of the area.
Integrate and link the Smith Street corridor west of the railroad with the transit-oriented development activity planned for the east side of the tracks, enhancing opportunities for pedestrians, tourists, and others to pass easily into and out of the Gateway Neighborhood
Bring an identity and "sense of place" to the neighborhood by creating more green space, places to converse and gather, and general beautification.
Listed below are the intended outcomes for the GNC initiative.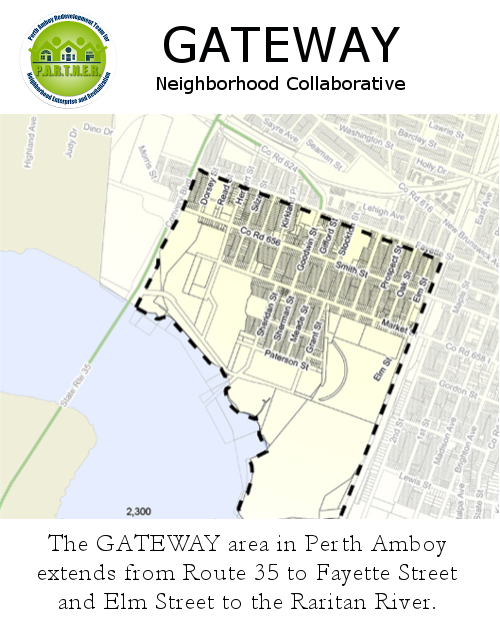 Details of GNC Plan
Community Organizing through...
Engaging our small businesses and offer business development services, including and not limited to marketing, bookkeeping, business planning
Coordinating an Information Exchange with a newsletter, calendar of events, and downloadable app
Survey neighborhood residents 
Host annual neighborhood festivals or block parties
---
Identify Land Use of the Neighborhood by...
Designating Gateway Neighborhood Association members as representatives on redevelopment initiatives such as the Celotex Site, Trans Oriented Development projects on Smith and Elm Street, 
Create concept plans for a farmer's market and amphitheater, 
Create neighborhood beautification projects inclusive of public art and community gardens, 
Offer funding and technical assistance to create more attractive window displays
Offer business programs in finance and retention resources such as micro-loans, grants, courses in credit and financial improvement
---
Integrate existing assets and services in the Gateway Neighborhood through...
A robust marketing campaign on wayfinding signage
Promote first time home buying workshops to residents
Promote local artists and administer an incubator where participants can learn how to start their own businesses, form consortiums, display and sell their art
Improve neighborhood playgrounds and seek new park development inclusive of the waterfront site
Bike and pedestrian lane
Concentrate social services and emergency assistance in the Gateway
Conduct health screenings
Host career fair and job training events
Neighborhood Cleanups
Establish indicators that will measure the use and versatility of our existing recreational space
Expand our recreational programming
Host housing counseling classes to help families with foreclosure and household budget
Develop neighborhood watch programs, partner with our police department on national night out, and texting system to report crime and protect identities of individuals and businesses
Security Camera Installation
Parking Pass Pilot Program
Collaborate with the City on rezoning, redevelopment and reinvestment plans on the Train Station and the Raritan River Drawbridge
Our impact this year has changed our community!
Contributed in scholarships to public housing & section 8 participants.

Annually contributes to fund self-sufficiency, housing counseling, and financial literacy education.

In escrow funds. In 2022, we had 83 FSS program participants and graduated 7.