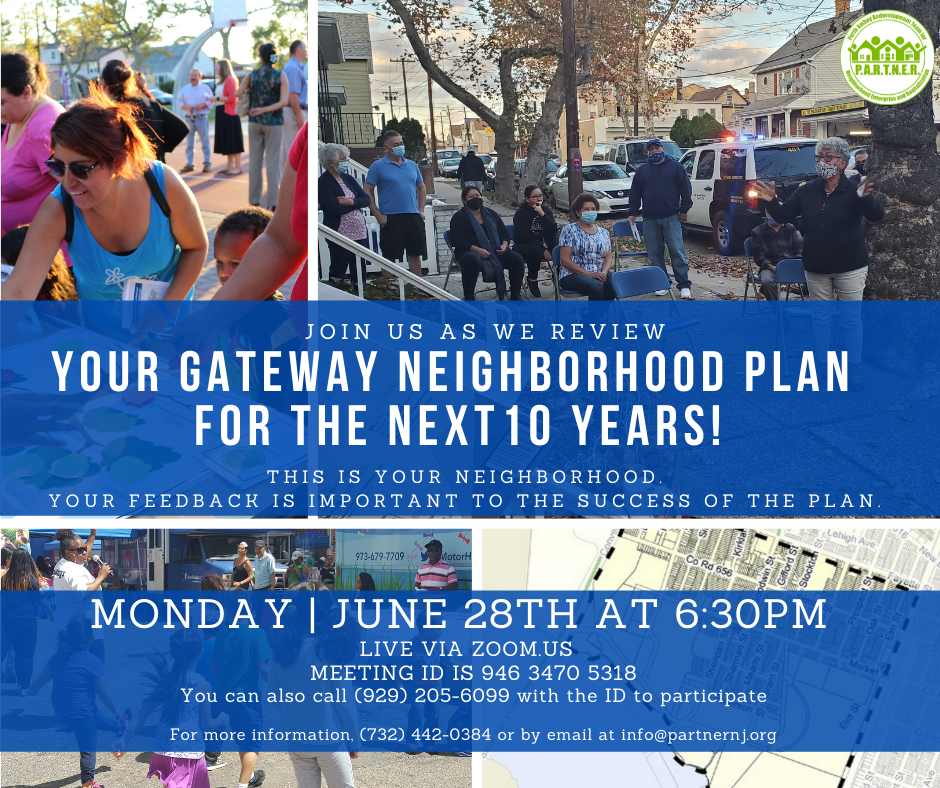 Notice of Organization's full draft, thirty-day municipal review period of the New Gateway Neighborhood Plan for the Neighborhood Revitalization Tax Credit (NRTC) for the GATEWAY NEIGHBORHOOD of the City of Perth Amboy.
On behalf of the Perth Amboy Redevelopment Team for Neighborhood Enterprise and Revitalization (P.A.R.T.N.E.R.)/Gateway Neighborhood Collaborative (GNC) and New Jersey Community Capital, I am pleased to submit to you a full draft of our new Gateway Neighborhood Plan.
The draft document can be accessed above. 
This plan identifies neighborhood opportunities, issues, and propose a comprehensive set of economic development, housing, social support, and related strategies to drive forward the neighborhood's revitalization over the next decade. When approved by the Department of Community Affairs (DCA), this Plan will also enable P.A.R.T.N.E.R. to participate in the NRTC's annual project application rounds to seek funding to implement these comprehensive strategies.
This Neighborhood Plan is a product of numerous community meetings and discussions held with Gateway residents and other stakeholders over the last year and a half. The Neighborhood Plan will guide the Gateway Neighborhood Collaborative in the New Jersey Neighborhood Revitalization Tax Credit (NRTC) program.
In compliance with the NRTC Program Rules, we are submitting this full draft of the Neighborhood Plan in order to initiate a thirty-day municipal review period before the Plan is finalized and submitted to the New Jersey Department of Community Affairs. Any comments or feedback that the City wishes to provide can be provided in writing or by contacting me to arrange a time to talk.
We are also making this draft of the Gateway Neighborhood Plan available to the public on our website, across our other communication platforms, and at Gateway Collaborative office at 415 Fayette St. Perth Amboy, NJ 08861, during hours of Monday-Friday from 9:00 AM- 5:00 PM or request by email.