Home Fire Campaign in the Gateway Neighborhood
Saturday, September 24, 2022 10:00 am - 2:00 pm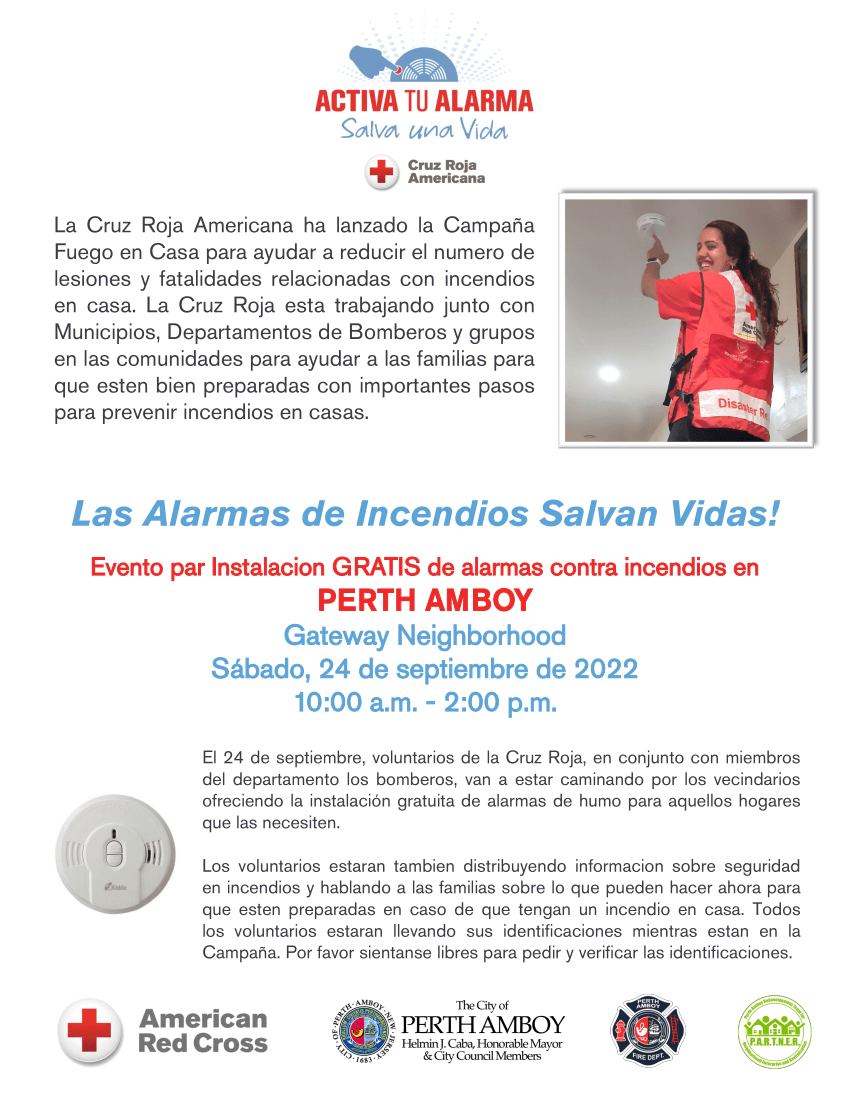 Description:
On September 24, Red Cross volunteers, together with the City of Perth Amboy and members of their fire department, will be going door-to-door in neighborhoods offering free smoke alarm installations in homes that need them.
Volunteers will also be distributing fire safety information and talking to families about what they can do now to be prepared should a fire break out in their home. All volunteers will be wearing identification tags while canvassing. Please feel free to request to see ID.

Home Fire Safety and FREE Smoke Alarm Installation Event in PERTH AMBOY's Gateway Neighborhood
Saturday, September 24, 2022
10:00 a.m. - 2:00 p.m.

El 24 de septiembre, los voluntarios de la Cruz Roja, junto con la ciudad de Perth Amboy y los miembros de su departamento de bomberos, irán de puerta en puerta en los vecindarios ofreciendo instalaciones gratuitas de alarmas de humo en los hogares que las necesiten.
Los voluntarios también distribuirán información sobre seguridad contra incendios y hablarán con las familias sobre lo que pueden hacer ahora para estar preparados en caso de que se produzca un incendio en su hogar. Todos los voluntarios llevarán etiquetas de identificación durante el escrutinio. Por favor, siéntase libre de solicitar ver la identificación.

Seguridad contra incendios en el hogar y evento de instalación de detectores de humo GRATIS en el vecindario Gateway de PERTH AMBOY
sábado, 24 de septiembre de 2022
10:00 am - 2:00 pm
This form stopped accepting submissions on September 24, 2022 10:00 am EDT.