Community Open Day; A Day of Kindness with Community Service Activities
Saturday, March 28, 2020 1:00 pm - 3:00 pm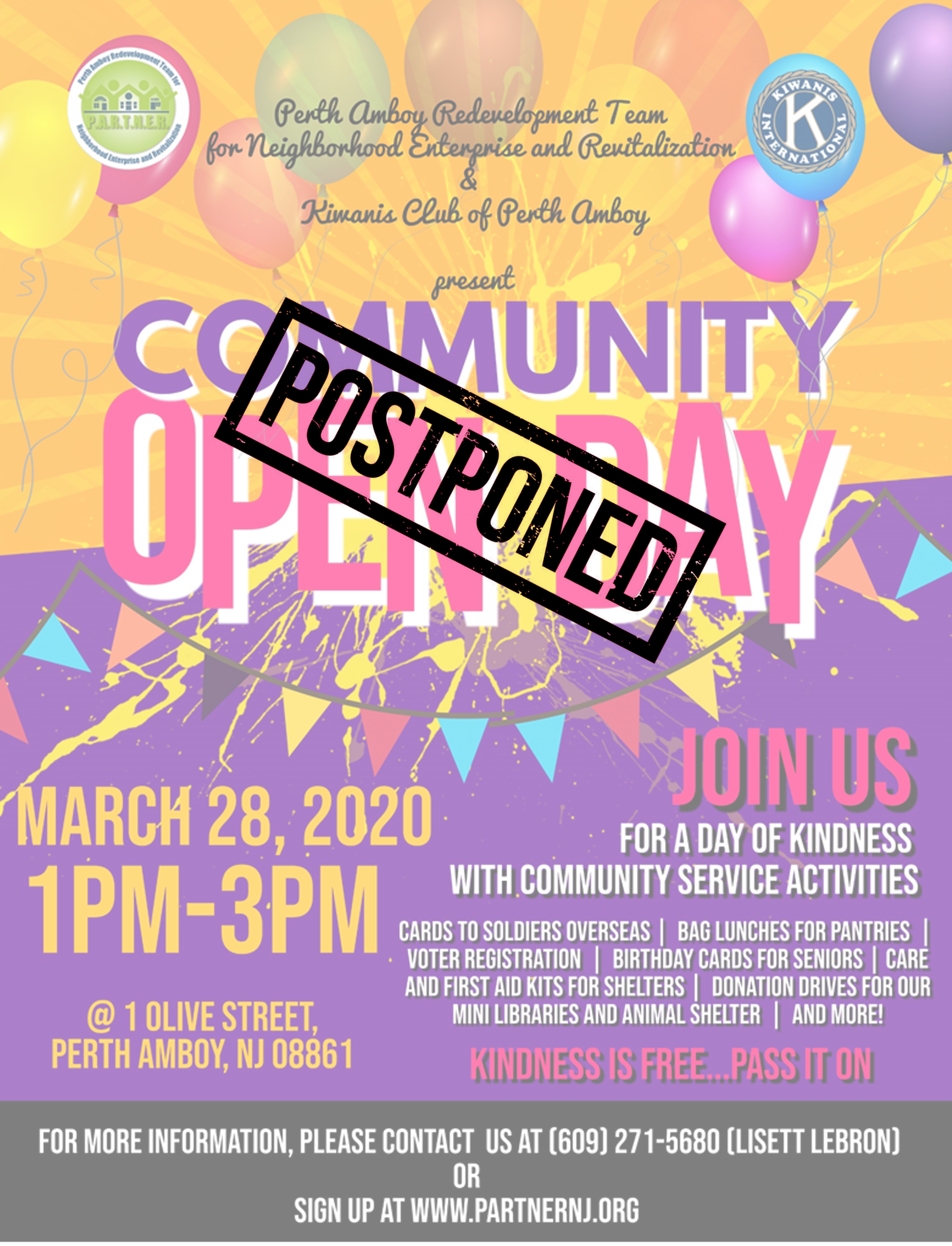 Location:
1 Olive Street (Alexander F. Jankowski Community Center)
Description:
The Kiwanis Club of Perth Amboy in partnership with P.A.R.T.N.E.R., is hosting a Community Open Day, a day of dedicated for community service activities to be hosted on site.

Community service activities include:
* Write cards/letters to soldiers overseas
* Bag lunches for pantries
* Register to vote
* Create birthday Cards for Seniors
* Receive donations that day and organize them. We are accepting donations for
*Care and First aid Kits for shelters
*Books for our mini libraries
*Pet supplies for our Perth Amboy Animal Shelter

Interested in volunteer for one of the activities? Register below as a volunteer.

Are you an agency and would like host a community service activity? Contact us below.

All donated items will go directly to Perth Amboy food pantries and Perth Amboy Animal Shelter.

FOOD ITEMS
Oatmeal
Whole grain, low-sugar cereal
Pancake Mix and Syrup
Pasta Box and Sauce
Shelf Milk
Rice
Dry beans
Honey

PERSONAL CARE ITEMS
Tissues
Toothbrush
Toothpaste
Dental Floss
Sunscreen
Deodorant
Cotton swab
Mouthwash
Toilet paper
Small bottles of shampoo, conditioner, shower gel
First-aid items
Feminine hygiene
Diapers
Underwear
Socks

ANIMAL SHELTER ITEMS

Dog Food- Wet or Dry
Cat Food-Wet or Dry
Cat Litter
Chlorine Bleach
Dawn Dish-washing Detergent
Towels
Paper Towels

BOOKS
New or gently used books appropriate for all ages
This form stopped accepting submissions on March 28, 2020 1:00 pm EDT.