Bike Rodeo/evento de seguridad en bicicleta
Saturday, June 2, 2018 12:00 pm - 3:00 pm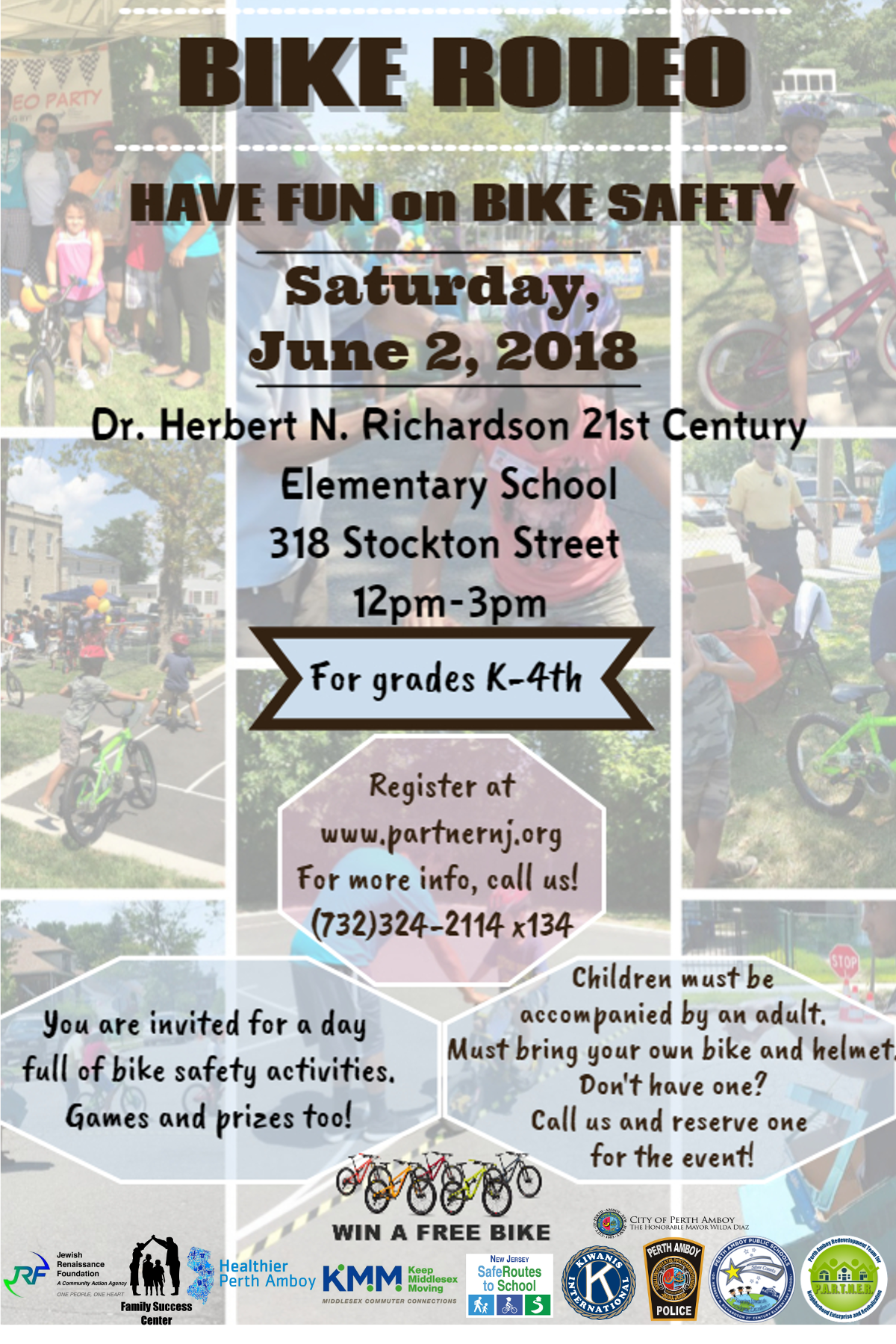 Location:
318 Stockton Street
Description:

The 2018 Bike Rodeo is a one day bicycle safety clinic targeted for youth in providing information on bike riding safety using interactive stations within an enclosed area that include:
* Bike inspections
* Helmet fitting
* Activities on bike traffic rules
* Proper Bike maintenance

This year will be its 5th annual event held at the Dr. Herbert N. Richardson 21st Century Elementary School located on 318 Stockton Street, Perth Amboy, NJ

The Youth Bike Rodeo intends to
• Educate families, children, and teens about bike safety within the community
• Promote physical activity among families and children.
• Provide interactive stations on bike inspections, proper helmet fitting, hands-on activities about bike traffic rules, and proper bike maintenance.

Collaboration between: JRF's Family Success Center, PARTNER-GNC, Perth Amboy Police Dept, and the Herbert Richardson Elementary School PTO and Perth Amboy Public Schools.

---------------------------------------------------------------

El 2018 Bike Rodeo es una clínica de seguridad de bicicletas de un día dirigida a los jóvenes que brinda información sobre seguridad en el uso de bicicletas mediante el uso de estaciones interactivas dentro de un área cerrada que incluye:
* Inspecciones de bicicletas
* Ajuste del casco
* Actividades sobre reglas de tráfico de bicicletas
* Mantenimiento adecuado de la bicicleta

Este año será su quinto evento anual en la Escuela Primaria Dr. Herbert N. Richardson 21st Century ubicada en 318 Stockton Street, Perth Amboy, NJ

El Youth Bike Rodeo tiene la intención de
• Educar a las familias, niños y adolescentes sobre la seguridad de las bicicletas dentro de la comunidad
• Promover la actividad física entre las familias y los niños.
• Proporcionar estaciones interactivas sobre inspecciones de bicicletas, ajuste apropiado del casco, actividades prácticas sobre reglas de tráfico de bicicletas y mantenimiento adecuado de bicicletas.

Colaboración entre: el Centro de Éxito Familiar de JRF, PARTNER-GNC, el Departamento de Policía de Perth Amboy, el PTO de la Escuela Primaria Herbert Richardson y las Escuelas Públicas de Perth Amboy.
This form stopped accepting submissions on June 2, 2018 12:00 pm EDT.