Thursday, October 18, 2018 6:00 pm - 9:00 pm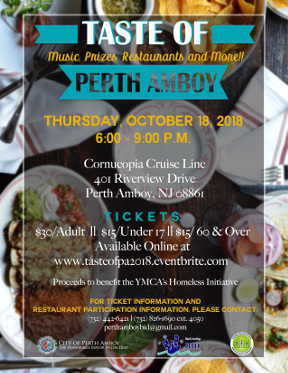 Location:
401 Riverview Drive, Perth Amboy
Description:
Taste of Perth Amboy is back with another highly anticipated night full of Perth Amboy's best entrees, desserts and music!

Join us as our local restaurants display their decadent cuisine and a glimpse into the culture world behind that makes each mouth watering plate so unique. In addition, you will have the opportunity to support your favorite restaurant by nominating them for the coveted "People's Choice" Award.

This, and much more, will take place on Cornucopia Cruise Line's beautiful St. Charles Vessel overlooking the Raritan Bay.
Don't miss out on your opportunity to try all the amazing tastes that Perth Amboy has to offer.
See you there!
Contact Information:
Business Improvement District